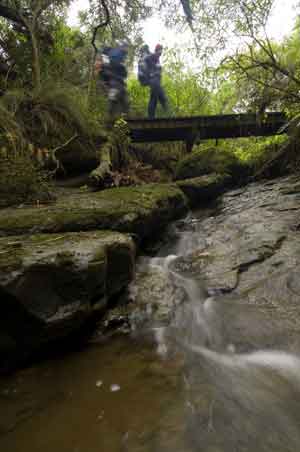 Otway Parks The parks system of the Otways is somewhat fragmented with many towns and areas of private land amongst the 5 parks of the range.
The parks are the Otways National Park, Angahook-Lorne State Park, Carlisle State Park and Melba Gully State Park. The Port Campbell National Park adjoins the Otways National Park.Otways National Park covers 13000 hectares of sea cliffs and forests.
Angahook-Lorne State Park, the closest of the Otway parks to Melbourne is also the biggest at 22,350 hectares. It was declared in 1987 and contains many waterfalls.
Carlisle State Park, declared in 1988, covers 5600 hectares in the northern Otways and is the remotest and least visited park of the range.
Melba Gully State Park is a small park of 65 hectares created in 1975 after the land was donated to the Victorian Conservation Trust.
Port Campbell National Park covers 1750 hectares in a narrow band of coastline extending over fifty kilometres westward from the Otways. It was declared in 1964 and contains much of the coastal scenery that the Great Ocean Road is famous for including the 12 Apostles, Blowhole and Loch Ard Gorge.
View images of waterfalls in the Otway National Park